Lapchi Small Children Education Sponsorship Program
Background
Lapchi Snow Mountain is situated in the eastern part of Nepal on the southern border of Tibet (China), at a height of about 4000 meters. It is considered to be a very holy place that has been blessed by the presence of Siddhas and masters like Mahasiddha Saraha, Padmasambhava and Milarepa (1052-1135) who meditated in the caves of Lapchi. Moreover, this region has been closely tied with the history of the Drikung Kagyu. The founder of Drikung Kagyu Lineage, Kyobpa Jigten Sumgun (1143-1217) had sent countless Vajrayana practitioners there and in the centuries that followed, many outstanding masters from the Drikung Kagyu Lineage went to Lapchi to advance their practices. Many practitioners went on extended meditation retreats in one of the numerous sacred caves.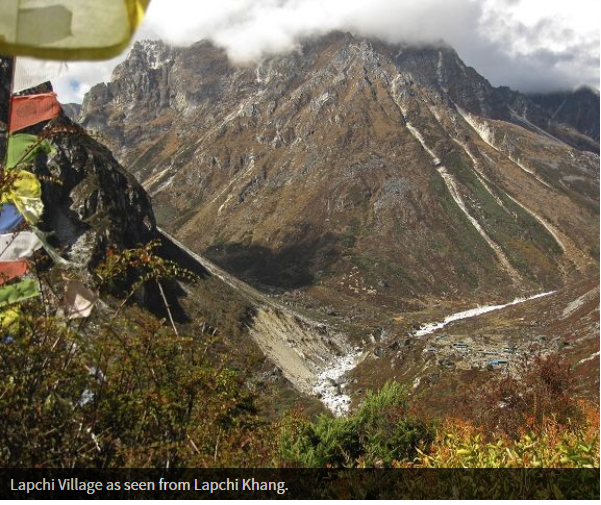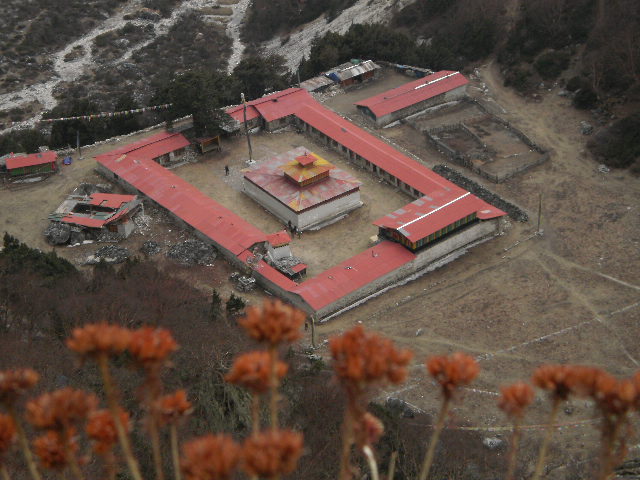 Lapchi Association
Lapchi Jamtse Kyi Khang (Lapchi Compassion Home) is one of the many projects operated by Nechok Lapchi Kagyu Milarepa Association (NLKMA) which is a non-profit organization in Nepal founded in 1995. H.H Drikung Kyabgon Chetsang Rinpoche is the Honorary Chairman of the association while His Eminence Nubpa Rinpoche is the Advisor. The mission of the Association is to improve the lives of Lapchi villagers by providing education, medical services, infrastructure and so on.
The name of this project Lapchi Jamtse Kyi Khang (Lapchi Compassion Home) was kindly bestowed by His Eminence Nubpa Rinpoche. The project's mission is to ensure that the children from the village of Lapchi receive good care and good education, become self-reliant and contribute to the Lapchi community and the world at large. Currently there are 13 nomadic families living in that area. Since they are nomads, they inhabit two settlements in the region. During winter months when it is too cold to stay at the top of the Lapchi mountain (4250 m) where the upper village is, the families have to move down to a lower village in Numagnang (3620 m) and vice versa in the summer time. After the earthquake and landslides in Nepal 2015, many houses in the village and the usual routes (roads and bridges) between Lapchi and Numagnang which they highly relied on were damaged. This becomes extremely difficult for the families to travel with their herds and in particular, it is dangerous for the children to travel along the broken paths.
| | |
| --- | --- |
| Roads were destroyed after the 2015 earthquake | |
The people residing in Lapchi are poor and live in simple homes made of stones and metal roofs with no basic utilities like electricity, heat, hot water and gas for cooking. After the earthquake, the situation got only worse. Many of their simple homes were destroyed and have to be rebuilt. Many families lost animal live stocks like yak and cows that they greatly depend on. Some even lost family members. Under such harsh conditions, these parents who are overburdened by the heavy daily tasks raised genuine concern about the safety and the welfare of their children. They personally brought their children to Lapchi Compassion Home to seek help in the hope to secure food, safe lodging and proper education that may change the life of their children. It is also out of their trust in Lapchi Compassion Home that they take this very seriously. Out of compassion and after great consideration, executive members under the supreme guidance of His Eminence Nubpa Rinpoche decided to extend Lapchi Compassion Home to Kathmandu. Under this new extended organization, with the help from three very competent staff, 13 girls and 1 boy between aged 4 to 7 have now moved to Kathmandu. They stay in a newly renovated home, under the great care of the staff and are enrolled in local school in Kathmandu. The parents happily accepted the project and they came personally to Kathmandu to drop off their children to the new Lapchi Compassion Home in Kathmandu for schooling. In this way, Lapchi Compassion Home helps to lessen the burden of their parents.
| | |
| --- | --- |
| | |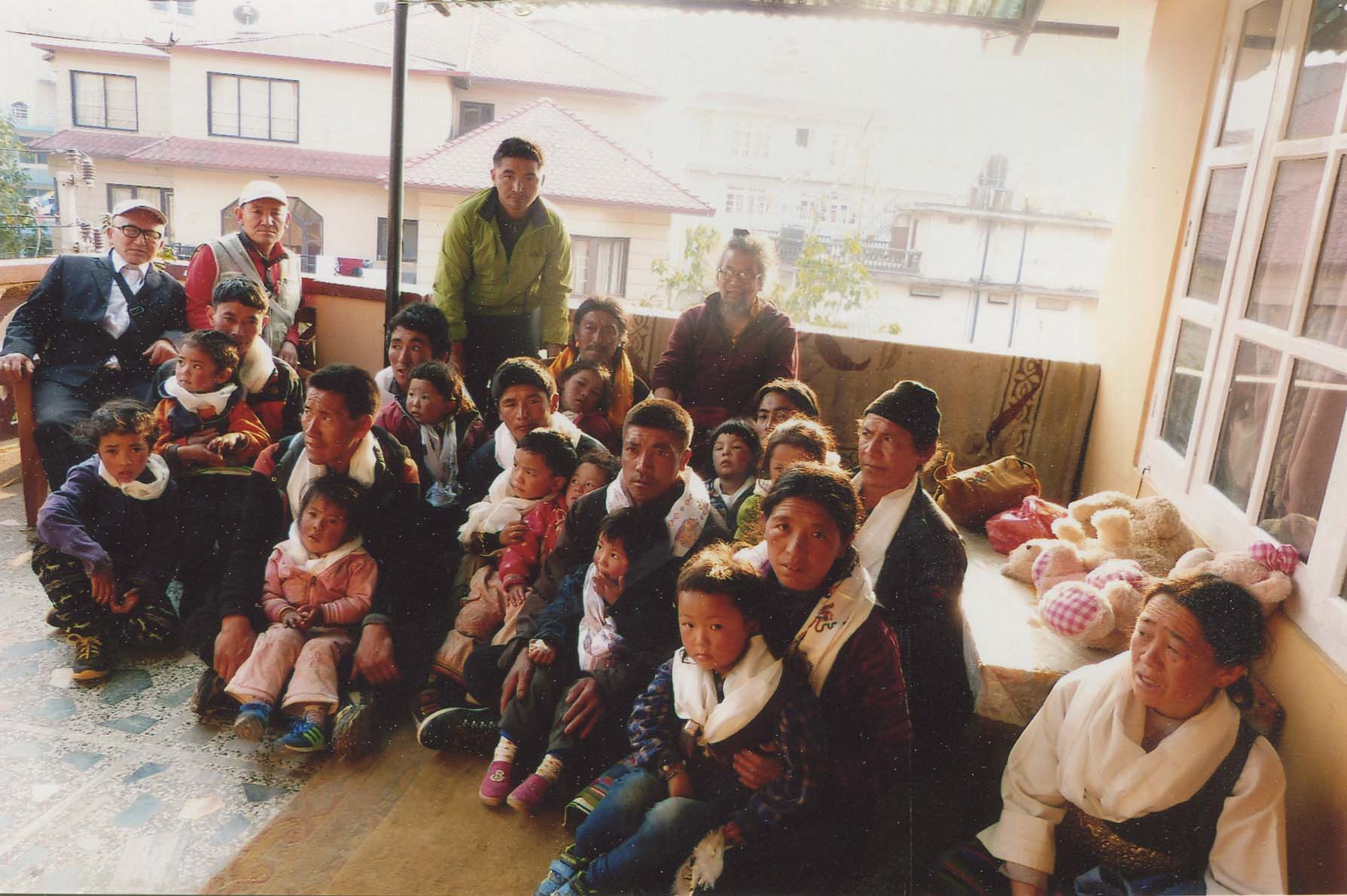 Parents brought their children to Lapchi Compassion Home in Kathmandu for schooling
Message from His Eminence Nubpa Rinpoche on May 18, 2016
"拉契之家"的目地是,在尼泊尔大地震中受灾的小孩得到学习和,为家里分担一些事情儿做的一向善意,希望大家一起来搞好。努巴·仁波齐。18-5-2016
"The purpose of the "Lapchi Home" is to provide those Lapchi children who suffered from the Nepal earthquake an opportunity to receive education. It helps to relieve the burden of their families. Hope that all of you together help to accomplish this virtuous activity."
Staff qualifications

1. Manager: Lhakpa Gyalpo completed his high school from India. (12th commerce)
2. Father: Tenzin Jungney completed Uttar Madhyama 1st level (Buddhist Philosophy)
3. Mother: Youdon completed her high school from India (12th commerce)
4. Program Manager (Volunteer): Dawa Tsering completed his B.A Psychology from India.

Currently three young caretakers – a female and two males are employed to look after 14 small children in a newly renovated home. They are young people from Lapchi who have studied in India and returned to Nepal to serve their village. Since the village of Lapchi is small and everyone knows one another, the children are familiar and comfortable with them. This also provides a means of proper living for the three young people. They have been properly selected to look after the well-being of the little children.
So far, fourteen children are enrolled in the Lapchi Children project and they will accept the future children from Lapchi if, parents sent their child to school. The children are studying in Songster Boarding School which has classes from Nursery to 10th grade and these children are studying between the level of Nursery and Upper kindergarten.
Children that need to be sponsored
| | | | | | | | | |
| --- | --- | --- | --- | --- | --- | --- | --- | --- |
| | Children Name: | Class: | Age | Date of Birth | Gender | Father's Name | Mother's Name | Picture |
| 1 | Sonam Dolma | U KG | 6 | 25th Nov 2010 | F | Nyima Gyalpo | Choedon | <![if !vml]> <![endif]> |
| 2 | Tsering Dekyi | Nursery | 4 | 24th June 2012 | F | Ka Tsering | Lhakpa | <![if !vml]> <![endif]> |
| 3 | Nyima Lhamo | Nursery | 4 | 28th April 2012 | F | Nawang Dorjee | Deceased | <![if !vml]> <![endif]> |
| 4 | Dawa Bhuti | U KG | 6 | 7TH June 2010 | F | Lhakpa | Nawang Dolma | <![if !vml]> <![endif]> |
| 5 | Tenzin Nyidon | L KG | 5 | 3rd Dec 2011 | F | Karma | Dolma Tsering | <![if !vml]> <![endif]> |
| 6 | Phubu Bhuti | Nursery | 4 | 7th March 2013 | F | Kunchok Norbu | Sangmo | <![if !vml]> <![endif]> |
| 7 | Kinjok Dolma | U KG | 7 | 22nd Jan, 2010 | F | Migmar | Chung Bhuti | <![if !vml]> <![endif]> |
| 8 | Sonam Dolma | L KG | 6 | 14th Jan, 2011 | F | Migmar | Chung Bhuti | <![if !vml]> <![endif]> |
| 9 | Passang Kunkyi | Nursery | 4 | 18th April 2012 | F | Dhargyal | Yankyi | |
| 10 | Dickyi Dolma | Nursery | 4 | 12th Aug 2012 | F | Tsaten Dorjee | Passang Tsamchoe | <![if !vml]> <![endif]> |
| 11 | Tenzin Rabten | U KG | 6 | 28th March 2010 | M | Ka Tsering | Lhakpa | <![if !vml]> <![endif]> |
Three children are newly added into the program and they are not in the list above.

NOTE: U KG: Upper kindergarten

L KG: Lower Kindergarten

Sponsorship program

BUDGET FOR EACH CHILD
Items NO

Particulars

Monthly

Annually

1

Education fee

2,950

Rs

35,400

Rs

2

Hostel fee

100

1,200

3

Food

2,700

32,400

4

Staff pay

27,000/11= 2,454

2,077*12=29,450

5

Medical

300

3,600

6

Electric/water/phone

400

4,800

7

Clothing

1,300

15,600

8

Stationery

300

3,600

IN NEPALI Currency Rs:

13,480

1,61,760

Total fee for per child in US $

Exchange rate:105 Nepali rupee

$ 100

$ 1,200
Can I choose which child I would like to sponsor by myself?
All children need to be sponsored equally. However, sponsors do have the choice to specify gender and age of the child that they wish to support.
Which costs are covered by my sponsorship contribution?
It covers basically everything including education, shelter (utility), food, clothes, medical care, administrative fees etc.
Can I correspond with my sponsored child by post and e-mail?
Yes, but with the coordination of the manager of the Lapchi Compassion Home. Even though English is a new language for the child, through a sample of drawings, simple alphabets, words or even a simple letter from time to time, you will see the progress of the sponsored child. The sponsored children will not seek direct communication with their sponsors to avoid miscommunication that could lead to misunderstanding and loss of credibility.
When does my sponsorship come to an end?
Basically you can end your sponsorship at any time without giving any reasons. However, please inform them in advance about the termination so that they can plan ahead. Sponsorship also ends if your sponsored child.
A) leaves school permanently (e.g. return to biological family/ Lapchi village)
B) completes education at school
C) start to work
Can I visit my sponsored child at the Lapchi Jamtse Kyi Khang?
Yes, all sponsors are welcome to visit the Lapchi Compassion Home in Kathmandu where the children live. It will certainly bring joy when sponsors come with gifts and other items to the sponsored child. However, it is important to observe and respect the daily routines and duties so that a normal and harmonious functioning of the home can be maintained without disturbances. Also, the visit should not be too long so that other children do not feel jealous.
Can I send gift packages to my sponsored child?
Yes, but please send only small well-packaged parcels by registered mail. Since the postal service in Nepal is quite unreliable, parcels are often either lost or damaged. In additional
they
have to pay quite high custom duty when receiving those parcels. It happens that the duty fees are even higher than the value of the parcels. Due to the above reasons, sending the parcels is actually not the best option.
They
suggest that you add the gift amount to the sponsorship payment and specify the nature of the gift so that
they
can purchase the gifts and hand them over to the child without waste.
What gift can I bring to my sponsored child during my visit?
You can bring small gifts such as clothing items like trousers, jacket, shoes or stationery, balls, fountain pens, etc. If possible, preferably bring something for all members of your sponsored child's family. It is also possible to buy all these items in Nepal.
What does it mean to sponsor a child o
f
Lapchi Jamtse Kyi Khang?
•• Every cent of your sponsorship will mean so much to the sponsored child.
•• You provide an unique opportunity for the children to receive good care and good education at early age, thus pave the way for a better future for the children.
•• You will have the satisfaction of greatly benefited the child and a life-long deep appreciation from the child who come from a remote Lapchi area.
You will receive:
•• Personal drawings and letters from the sponsored child
•• Photographs of the child
•• Annual report of the child if you wish
What is Lapchi Jamtse Kyi Khang's motivation and attitude towards the children?
They t
ake well care of the upbringing of all the children and give them opportunity to receive regular school education, support and train each child whatever
the child
need physically, mentally, emotionally as well as educate them on their unique culture, language, religion, values
. In addition, they will also, of equally importance, help each child to cultivate
a warm heart
as mentioned in His Holiness the 14th Dalai Lamas' speeches below.
Education Matters Says His Holiness the 14th Dalai Lama in Sydney, Australia, June 13, 2013: Turning to the topic of education, he said that everyone wants to live a happy life and has a right to do so. But the way we go about achieving it must be realistic. He suggested that there is often a gap between appearance and reality and the purpose of education is to reduce that gap. Many of our problems arise because we cling to appearances rather than depending on reality. When our minds are clouded by emotions, they are biased and obscured from seeing reality clearly. The purpose of education is to enable us to look the surface of appearances and see the reality beneath. He said:
Many of the problems we face are man-made. Perhaps I should say human created problems, for which incomplete education is responsible. In addition to basic education, we need to encourage warm-heartedness, concern for others and compassion. Otherwise, when our marvelous intelligence is led by powerful negative emotions, it invites disaster. The real source of trouble is in our mind and emotions."
Education and the Warm Heart by His Holiness the 14th Dalai Lama at Emory University, Druid Hills, Georgia USA, in May 1998:
One of the unique things about humanity is the special human brain. We have the capacity to think and to memorize. We have something that can have very very special qualities. Because of that, education becomes very important. I believe that education is like an instrument. Whether that instrument, that device, is used properly or constructively or in a different way depends on the user. We have education on the one hand; on the other hand, we have a good person. A good person means someone with a good heart, a sense of commitment, a sense of responsibility. Education and the warm heart, the compassion heart - if you combine these two, then your education, your knowledge, will be constructive. Then you are yourself then becoming a happy person.
During the school holidays, if everything goes well, Lapchi Compassion Home also have plans to bring the little children home to Lapchi to reunite and spend some time with their parents and relatives.
Is there any other alternative?
Unsuccessful attempt to set up school in Lapchi village
A school was set up earlier in the village of Lapchi by our association. However, due to a lack of qualified teachers and school facilities, among other problems, the school eventually failed to continue its operation. The people staying in the village are not properly educated as teachers. They are nomads. It is also difficult to get qualified teachers to stay permanently in Lapchi to teach and help the children. At that time, a Nepali teacher from another village and one Tibetan teacher were employed to teach in the school. Later one teacher left to become a monk and another one left to assist the family work with the cattle. Another problem is that because of the nomadic living style of the Lapchi people, it is hard to set up school facilities that can shift from place to place. Sometimes teachers did not come to Lapchi on time as they came from another village. All these are some example and problem happened at that time.
In the meantime, this Children Education Sponsorship Project is the best solution that everybody has accepted.
In the longer run, they hope to find better alternative solution once they get good facilities of education and qualified staffs as well as solution to safeguard children in Lapchi so that the children can move back to Lapchi. They also hope to be able to build qualified houses to all the households with well guidance of His Holiness Chetsang Rinpoche.
Can the Lapchi Home include all children in the Lapchi village?
Currently, there are a few children between age 1 to 2 in Lapchi. Whether in the future these or other children from Lapchi will be sent to us or not will be the decision of the parents. However, it also depends on whether or not the sponsorship program can find enough resources to provide opportunity for children of all ages. The Lapchi children are expected to help out in the daily house chores, like looking after baby yaks. When they get older, they are also expected to help with herding the yaks (cattle) in order to share tasks for the family. Unless Lapchi Compassion Home is financially secured to provide for the children for every family, it is impossible to expect every family to be at ease to send their children of all ages to school. This is unlike in the West, children have better living condition and parents can quite comfortably afford things for their children, without having the children to work.
Sponsorship Contribution
It is possible to pay according to the way that is most convenience to you but it would be helpful for them to plan ahead if you let them know how the payment will be made. Cheques can take several weeks/months to clear through the bank. All payments have to be paid directly to
LAPCHI

ASSOCI

ATION BANK

ACCOUNT:

N

ECHOK

LAPCHI

KYGU

MI

LAREPA

ASSOCI

ALTI

ON
Account Name: Nechok Lapchi Kagyu Milarepa Association

Receiver's Address: Nayapati-5, Gokarneshowr, Kathmandu, Nepal

Account Number: 01800105200136

Swift Code: EVBLNPKA

Bank Name: EVEREST BANK LIMITED

Bank Address : Branch Chabhil, Kathmandu, Nepal

For every payment, you will receive an official receipt from the Lapchi Association.

Progress Report on March 1, 2017

Go to Project Background

1. . Currently there are fourteen children under the care of the Lapchi Compassion Home in Kathmandu which is operated by Lapchi Association. So far only four children are sponsored: two sponsorships from Sweden and one from France of one year, and a half-year from Singapore.. Thus, more sponsorship is needed in order to continue the program. Temporarily, the Lapchi Association is channeling fund to make up for the project deficit. The biggest challenge right now is to find enough financial support to all the children since the fund from Lapchi association may not be sufficient to continue with the children home operation.

2. One of His Eminence Nubpa Rinpoche's generous patron has recently donated a home in Kathmandu to Rinpoche to run this charity project so that the sponsorship cost has now reduced to 100 USD per child per month (from previously 138 USD) and 1 200 USD (from previously 1540 USD) per year. See the cost breakdown table below.
Items

Particulars

Monthly

Annually

1

Education fee

2,950 Rs

35,400 Rs

2

House Maintanence fee

100

1,200

3

Food

2,700

32,400

4

Staff pay

27,000/11= 2,454

2,077*12=29,450

5

Medical

300

3,600

6

Electric/water/phone

400

4,800

7

Clothing

1,300

15,600

8

Stationery

300

3,600

IN NEPALI Currency Rs:

10,504

126,037

Total fee for per child in US $

Exchange rate:105 Nepali rupee

$ 100

$ 1,200

<![if !supportMisalignedColumns]>
<![endif]>
3. Children are living happily together because they are from the same village and they know each other well and they like to play village games together. The caretakers are doing a great job to provide good care toall the children.
4. The children are receiving good education from the Srongtsen Bhrikuti Boarding High School in Kathmandu. They like to go to school learning new things and meeting good friends. They are all doing very well in school.
5. Seeing that the children are doing so well, their parents are all very pleased with the situation. Sometimes they will go to the lower village to get phone connection and call the home to talk to the children. They all came to Kathmandu to visit their children during the Mani-retreat in December and received blessings from His Eminence Nubpa Rinpoche. The children all went home during the winter break to unite with the parents. They are now happily back again from home.
6. The children received blessings from His Holiness Chetsang Rinpoche, His Eminence Nubpa Rinpoche, Venerable Khenchen Rinpoche and Venerable Dhondup Palden Rinpoche at the end of December. The Lapchi Association staff also received advice and blessings from His Holiness.
7. His Eminence Nubpa Rinpoche encourages all of us to donate whatever amount you can to support this project. Rinpoche said, "This kind of virtuous deed when it is done with good motivation, the amount is not important. One simply donates whatever one can. Most important is how we do it. If the act is done from the heart of love and loving kindness, it is a virtuous act. Once the virtuous act is performed, there is no need to think about the result. If we perform virtuous deed without expectation, one is free from attachment and self-grasping; thus, one can live in a care free manner." We are so grateful to Rinpoche for giving us such precious opportunity to practice bodhicitta, generosity and to accumulate merits.
8. Any donation amount will be GREATLY appreciated.
For sponsoring any child, please send sponsorship directly to Nechok Lapchi Kagyu Milarepa Association only.
Account Name: Nechok Lapchi Kagyu Milarepa Association
Receiver's Address: Nayapati-5, Gokarneshowr, Kathmandu, Nepal
Account Number: 01800105200136
Swift Code: EVBLNPKA
Bank Name: EVEREST BANK LIMITED
Bank Address : Branch Chabhil, Kathmandu, Nepal
For donation of any amount either regularly or as a one-time donation, there are two options:
Option 1: Ratnashri Meditation Center, Sweden
Plusgiro:1287806-2
Name & address of bank: Nordea Bank Sweden, 10571 Stockholm, Sweden
Swift address: NDEASESS
Account holder: RATNASHRI MEDITATION CENTER
IBAN Account number: SE91 9500 0099 6026 1287 8062 (within European Union)
Bank Account number: (Clearing 996026) 1287806-2
**Please write "Lapchi Children", your name and email address on the payment.
Option 2 Nechok Lapchi Kagyu Milarepa Association (see the Association account information above)
--------------------------------------------------------------------------------------------------------------------------------------------------------------
Children live happily together
| | | |
| --- | --- | --- |
| <![if !vml]> <![endif]> | <![if !vml]> <![endif]> | <![if !vml]> <![endif]> |
Children enjoys singing along with the music (clicking here or the picture to see the video)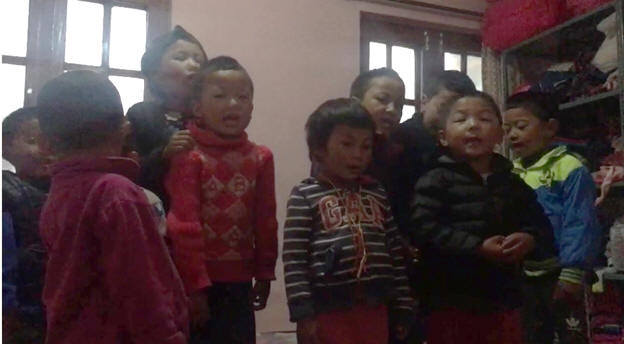 Happy school days and children's engagement in their studies
Children are having fun
| | | |
| --- | --- | --- |
| <![if !vml]> <![endif]> | <![if !vml]> <![endif]> | <![if !vml]> <![endif]> |
Children grow under the great care of the staff
| | | |
| --- | --- | --- |
| <![if !vml]> <![endif]> | <![if !vml]> <![endif]> | <![if !vml]> <![endif]> |
Children like the school work and get good result
<![if !vml]> <![endif]>

<![if !vml]> <![endif]>

<![if !vml]> <![endif]>

<![if !vml]> <![endif]>
Since roads to or from Lapchi are in bad condition, journey to or from home is hard-work for the parents.
It can mean a 7-hour of carrying the child on their back.
| | |
| --- | --- |
| <![if !vml]> <![endif]> | <![if !vml]> <![endif]> |
| <![if !vml]> <![endif]> | <![if !vml]> <![endif]> |
Children received blessings at Rinchen Ling Monastery, Nepal
Concluding Words
The Lapchi Association hopes that these children will in the future bring new hopes to the community and the holy place of Lapchi in their own ways, whether it is about morally and spiritually nourishing themselves, teaching the younger generation, or serving to preserve the holy place of Lapchi, etc. The association is very grateful for your interest and attention paid for the well-being of the Lapchi village children who are under the care of our Lapchi Compassion Home (Lapchi Jamtse Kyi Khang). They are sincerely thankful to your kind support. They guarantee that every cent of your donation will be spent on covering the expenses of the children.
Contact
For all inquiries about the program, please contact Dawa Tsering, Lapchi Association Secretary at lapchigonpa@gmail.com
Nechok Lapchi Kagyu Milarepa Association (NLKMA) Web: www.lapchimilarepa.org
Facebook: Lapchi Restoration
Facebook:
Lapchi Compassion Home
Download Progress Report Flyer
To other Dharma Projects in Nepal
Facebook: Ratnashri Meditation Center, Sweden
HOME to Ratnashri Meditation Center, Sweden
Facebook: His Eminence Nubpa Rinpoche
Videos related to the Lapchi Holyland: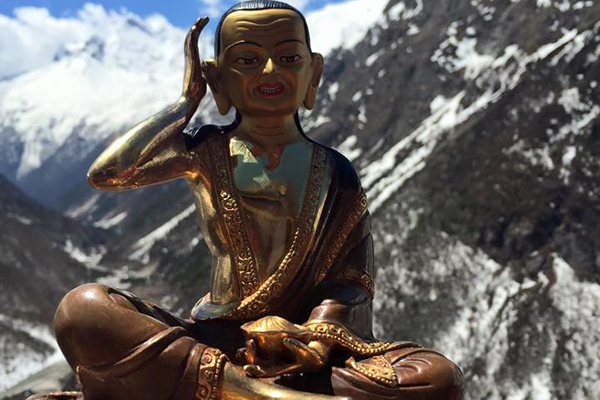 In the Footsteps of a Yogi - Lapchi Pilgrimage 2011
video
Lapchi Pilgrimage 2015
video series
Milarepa Songs (in Tibetan and Chinese)
video