Most Venerable Khenchen Konchog Gyaltshen Rinpoche
Great meditation master and abbot of the Drikung Kagyu lineage of Tibetan Buddhism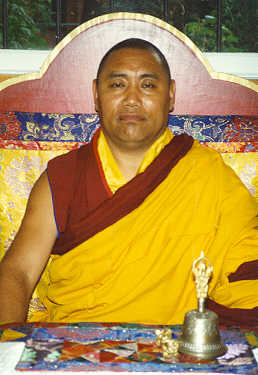 I pay homage to the Vajra-mind of indestructible nature,
the basis of all brilliant qualities, including great compassion and wisdom awareness.
Even though all sentient beings want to be free from suffering,
the darkness of their ignorance is so thick that the light of awareness cannot penetrate it.
May the Great Victorious Ones dispel their ignorance!
The ocean of blood of sentient beings' desire is so deep that they cannot cross the suffering ocean without help.
May the Great compassionate Ones bless them with enough strength to cross that ocean!
The elemental fire of hatred is so powerful that it burns the silks of peace and harmony.
May the rain of wisdom of all Victorious Ones quench those flames!
The mountain peaks of pride and arrogance are so high that beings cannot surmount them.
May the equanimity of the Victorious Ones give blessings so that beings can see others as themselves!
The sharp knife of jealousy cuts the tree of virtue.
May the Fully Awakened Ones give blessing so that beings may rejoice for others!
Grant blessings to purify these afflictive emotions!
Grant blessings to achieve wisdom awareness which enables beings to see their innate nature!
Grant blessings so that genuine peace, joy and happiness permeate all minds throughout the universe!
(by Venerable Khenchen Konchog Gyaltshen Rinpoche)
----------------------------------------------------------------------------------------------------------------------------------------------------------------------------------------------
The spiritual master is the source of all the virtuous teachings.
The attainment of omiscience depends on the instruction of the spiritual master.
(from Planting the Noble Stalk Sutra)
----------------------------------------------------------------------------------------------------------------------------------------------------------------------------------------------
Brief Biography of Venerable Khenchen Konchog Gyaltshen Rinpoche The village of Tsari and the surrounding areas are among the most sacred places in Tibet. It was there that Khenchen Gyaltshen Rinpoche was born in the spring of 1946, and it was there that he spent his early years.
In 1959, because of the political situation in Tibet, Khenchen Rinpoche fled to India with his family. The family then settled in Darjeeling, where Rinpoche began his education. Even at a young age, he was an excellent and dedicated student, and he was able to complete his middle school studies in less than the average time.
At about this same time that he completed middle school, a new university, the Central Institute of Higher Tibetan Studies, opened in Varanasi, India. Determined to be among its first students, Khenchen Rinpoche traveled to Varanasi in October 1967 to seek admission. He then began a nine-year course of study that included Madhyamika, Abhidharma, Vinaya, the Abbisamayalankara, and the Uttaratantra, as well as history, logic, and Tibetan grammar. In early 1987, he had the good fortune to take full monastic ordination from the great Kalu Rinpoche, and, shortly after graduating from the Institute, he received teachings from the Sixteenth Gyalwa Karmapa on The Eight Treasures of Mahamudra Songs by the Indian mahasiddhas.
Even after completing this long and arduous course of study, Khenchen Rinpoche wanted only to deepen his knowledge and practice of the Dharma. With the same intensity that he brought to his earlier studies, Rinpoche sought out and received teachings and instructions from great Buddhist masters. One was the Venerable Khunu Lama Rinpoche, with whom Khenchen Rinpoche studied two works of Gampopa: The Jewel Ornament of Liberation and The Precious Garland of the Excellent Path. Rinpoche's studies with the Venerable Khunu Lama also included mahamudra and many of the songs of Milarepa.
In all his studies, The Jewel Ornament of Liberation is one of the texts that Khenchen found to be most inspiring. Lord Gampopa lays out the teachings in a clear and systematic way that is understandable to beginners. At the same time, the work is such profound depth that scholars and practitioners can study it over and over and still not fully grasp its meaning. He has said on several occasions, "Anyone who knows the Jewel Ornament well can say that they really understand Buddhism."
Maintaining a balance between theoretical understanding and the practice of meditation, Khenchen Rinpoche began the traditional three-year retreat in 1978 under the guidance of the enlightened master Khyunga Rinpoche. During this time, he was able to deepen and enhance his understanding of The Fivefold Path of Mahamudra, the Six Yoga of Naropa and the profound Gong Chik text of Lord Jigten sumgon. He also received many other transmissions.
In 1982, the force of karma and the requests of many practitioners combined to bring Khenchen Rinpoche to the United States. By late 1983, the Tibetan Meditation Center was well established in Washington, DC. Their original location was the site of innumerable teachings, practices, retreats and ceremonies. In September 1984, and again in 1987, the young Center was blessed with personal visits and teachings by His Holiness the Dalai Lama.
In 1985, Khenchen Rinpoche traveled to the main seat of the Drikung Kagyu lineage, Drikung Thil, in Tibet. There he was able to receive personal blessings, as well as instructions and transmissions of mahamudra and the Six Yogas of Naropa, from the enlightened master, the Venerable Pachung Rinpoche.
Wanting the teachings of Dharma to reach as many people as possible, Khenchen Rinpoche has quickly adapted himself to Western forms of communication. He has made appearances on television, been a guest on many radio programs, lectured extensively at colleges and universities, and spoken to the public through countless newspaper articles. Rinpoche's compassion and dedication to the Dharma have taken him to all parts of the world. Rinpoche travels tirelessly, giving teachings, leading retreats and opening Dharma centers throughout North America, South America and Europe. With the Tibetan Meditation Center as his base, Khenchen Rinpoche went on to establish Dharma centers in many other places, such as, Chicago Ratna Shri Sangha, Drikung Meditation Center in Boston, MA, Drikung Namgyal Center in Tucson, AZ, Drikung Kagyu Dharma Circle in Wisconsin, Tibetan Meditation Center-Gainesville in FL, Ratna Shri Sangha in Colorado, The Bay Area Ratna Shri Sangha in San Francisco, CA , The Three Rivers Dharma Center in Pittsburgh, PA, Ratna Shri Sangha Circle in VA. Tibetan Meditation Center in Santiago and Concepcion, Chile and Ratnashri Meditation Center in Stockholm, Sweden. At that time while staying most of his time in the US, Rinpoche frequently visited places in Europe and Southeast Asia.
Between 1983 and 1990, Khenchen Rinpoche single-handedly translated critical Drikung Kagyu meditation practices, prayers and histories into English. The originals of the texts were all written out by his hand: Achi Chokyi Drolma, Amitabha, Amitayus, Bodhicitta, Chakrasamvara (both long and short versions), Chenrezig, Chod, Dharma Protectors, Four-Session Guru Yoga, Green Tara, Lama Chopa and tsok, Mandala offering, Manjushri, Medicine Buddha, Ngöndro Practices, Nyung Ne, Peaceful Guru Padmasambhava, Phowa, Refuge, Torma Offering, Tsog, Vajrapani, Vajrasattva, Vajrayogini, and White Tara. BeforeTibetan fonts were available for computers, Rinpoche wrote all these texts out by hand. Later, when automation became available, the translations were polished and republished. This priceless work formed the essential base from which the holy Dharma could be taught and practiced. Because of his efforts, Western students are now able to read and perform these practices in their own language.
In November 1991, Khenchen Rinpoche and the Tibetan Meditation Center moved to Frederick, Maryland. Nestled inside a state park, the Center is now situated on four wooded acres. A small temple has been built there, and was consecrated by His Holiness Chetsang Rinpoche in 1994. With this larger facility and in surroundings more conducive to contemplation, Rinpoche was able to benefit even more people with his teachings.
Khenchen Rinpoche has spent quite some time teaching in India, Tibet and Nepal when conditions allow.. He taught Gong Chik (One Thought) to a group of about ninety monks and nuns at the Drikung Kagyu Institute in Dehra Dun, India. With the financial assistance of friends and students worldwide, Rinpoche was able to print 1700 copies of Gong Chik and to distribute them to the students of the Institute as well as monks, nuns and monasteries in India, Nepal and Tibet. In 1996, Rinpoche printed and distributed 1,500 copies of Essence of the Mahayana Teachings by Ngorje Repa, an important disciple of Lord Jigten Sumgon. In May 1998, Rinpoche went to Gar Monastery. First, he gave teachings to the monks and nuns in the three-year retreat. Then he taught The Jewel Ornament of Liberation and The Fivefold Path of Mahamudra. He also visted six other Drikung Kagyu monasteries and gave many teachings to monks, nuns, and lay people. Rinpoche explained the importance of studying and practicing the precious Dharma teachings to all the different people that he met. For about 4 winter months, Rinpoche gave teachings on Gong Chik and the Essence of the Mahayana Teachings. In this way, many monks and nuns were greatly inspired to further their study and practice.
In October 1999, Rinpoche returned to the Tibetan Meditation Center in Maryland. He reorganized the center and started the five-year program of Ngöndro instructions.
On January 16, 2001, Rinpoche was enthroned by His Holiness Drikung Kyabgon Chetsang Rinpoche as a Khenchen (Great Abbot) at Jangchub Ling monastery, Dehra Dun, India. This was indeed a very great honor and great inspiration to all of us. We are all inspired by his unceasing altruistic effort in teaching the Dharma, in guiding us onto the Path so that we recognize Dharma as our ultimate friend.
In 2009, Rinpoche accepted to be the first abbot for Rinchen Ling Monastery in Nepal for one year. In October 2011, rinpoche taught the very extensive Gong Chik commentary for more than two months to help sustain the monastery and all its monks. In March 2011, Rinpoche participated the Gong Chik seminar in which he sponsored with money he received in donations and offerings. Then he taught at Rinchen Ling in Nepal The Jewel Ornament of Liberation for about one month. Many monks benefitted from these activities. On many occasions, he contributed food to that monastery. Then in April, Rinpoche made a pilgrimage with friends from Malaysia and some other monks to Lapchi Snow Mountain where Milarepa meditated for many yearsa dn became enlightened. Rinpoche had wanted to go there for a long time, but due to his health and other conditions, it did not happen. So, that prilgrimage was especially inspiring.
Khenchen Rinpoche continues to write, to translate texts, and to teach whenever requested. Then in mid-May 2011, Rinpoche visited Latvia, Estonia, Ukraine, Sweden and Germany and Switzerland. He gave complete teaching of the Buddha for the people who were interested. In mid-august, he traveled to the US and taught in Boston, Maine, Vermont, Marlyland, Pennsylvania, Virginia, Wisconsin, Illinois, New Mexico, Ohio and Florida.
Khenchen Rinpoche tiredlessly strive to make important texts available to the public and to provide his students with a thorough and systematic training in the Dharma. Rinpoche has taken enormous care to make each translations as precise as possible. Because he himself has been so moved by these words that come directly from great masters, he believes it is critical that these same words be presented in an unadulterated manner. For example, to translate this text, he and his editor went through the entire text word by word four times, sometimes spending an hour or more on a single phrase or sentence. It is his sincere hope that, through this genuine effort, the readers will be inspired like himself by these precious Dharma teachings.
A skilled and dedicated author and translator, Rinpoche has now published 13 books: Prayer Flags, The Garland of Mahamudra Practices, In Search of the Stainless Ambrosia, , The Great Kagyu Masters, The Jewel Treasury of Advice, The Jewel Ornament of Liberation, Calling to the Lama from Afar, The Transformation of Suffering, Pearl Rosary, A Complete Guide to the Buddhist Path, Opening the Treasure of the Profound, Wheel of Wisdom and Diamond Rosary. A short synopse for each published book can be found here.
These translations and commentaries were done to benefit all sentient beings, especially sincere Dharma practitioners. It is not easy to translate and write commentaries; these books took a long time and many painful measures to produce. But Rinpoche underwent this hardship without much support, just with a sincere wish to bring enlightened wisdom into the world. so many people are desperate to become free from suffering while at the same time they indulge in the causes of suffering. Rinpoche prayes for those individuals to be exposed to these teachings, find the path, and follow it with incisive wisdom so that they can breathe in peace and happiness - for them to really solve life's problems, not just with material consumption but by understanding the importance of the mind or consciousness. He request that anyone who has a chance to see these books to please read them carefully, digest their meaning, and apply their teachings. There is no doubt that the result will arise.
Remembering the struggles of his early years, Khenchen Rinpoche inspires and supports monks, nuns and the laypeople in their practice of the Dharma and is always ready to assist them in whatever way he can. To turn the Dharma wheel, Khenchen sacrifices all his comfort. He has recently spent several months traveling to various places in Tibet and China bestowing tiredlessly the precious Dharma teachings to local monks and nuns. To all, he gives of himself freely. With his heart and mind turned firmly towards the Dharma, he compassionately and with great patience shows the way.
Venerable Khenchen Rinpoches' past auspicious Dharma activities in Eastern Tibet (summer 2007)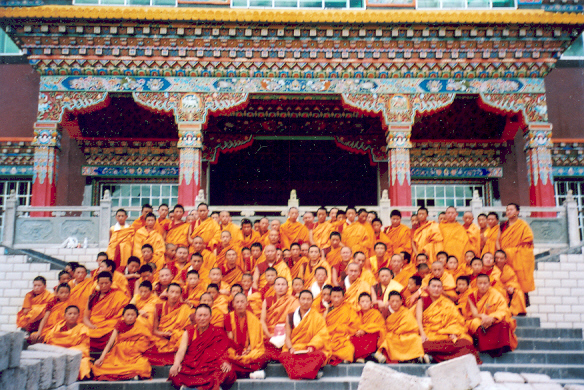 PalméGon Monastery in Nangchen, Qinghai
Palmé Gon Monastery in Nangchen (Qinghai province). Khenchen Rinpoché taught The Heart-Essence of the Mahayana (Ten-Nying) to Lho Kunsang Rinpoché's monks here. During this trip, Khenchen Rinpoché stayed here the longest and gave many other transmissions to students of the monastic college here.
This was Rinpoche's second visit since 1998.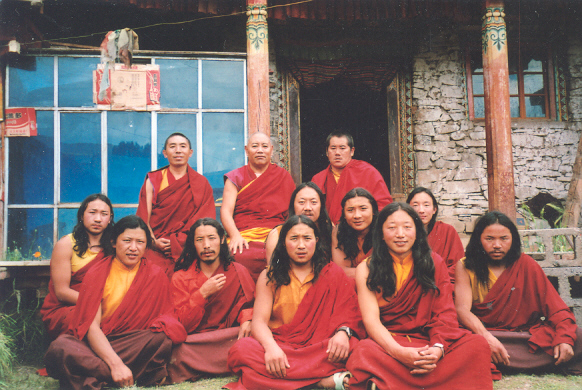 Gar Monastery in Nangchen, Qinghai
Then, Rinpoche taught upon request The Six Yogas of Naropa teachings (mostly transmissions) to the retreatants at the GarMonastery. The year before, Rinpoche stayed there for ten days explaining the Five Fold Mahamudra.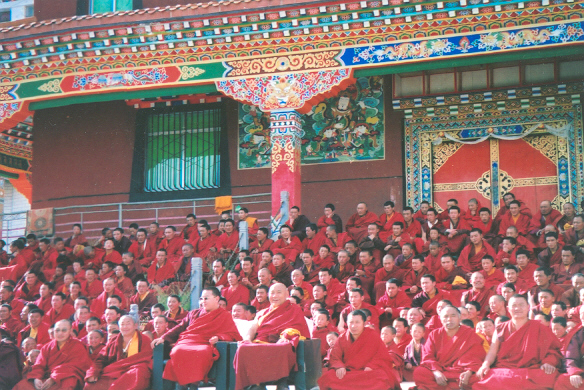 DrubGyü Monastery in Qinghai
This is the largest Drikung Kagyu monastery (in terms of the number of monks, more than seven hundred monks) in Tibet and Rinpoche stayed there for six days. He taught Serkhangma (The Golden Chapel Prayer by Kyobpa Jikten Sumgön) for three days and one day practising Lama Chöpa. This was Rinpoche's second visit since 1998.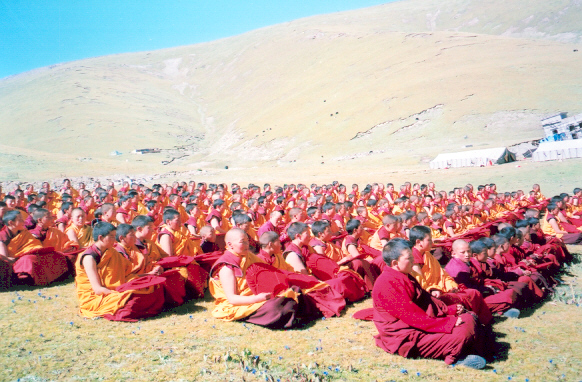 DrubGyü Nunnery in Qinghai
Rinpoche visited the nunnery for one day, giving oral transmission of the root text of Heart Essence of Mahayana Teachings to more than two hundred nuns.
This was Rinpoche's second visit since 1998.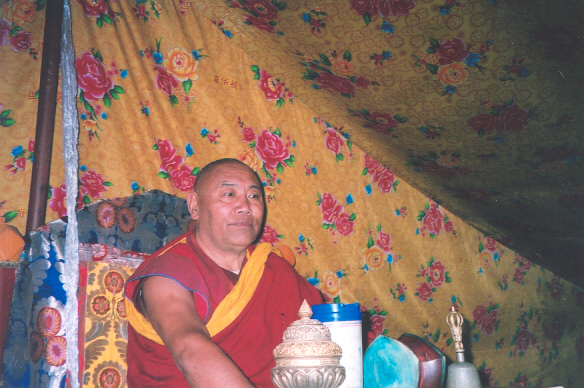 Rinpoche teaching at the DrubGyü Nunnery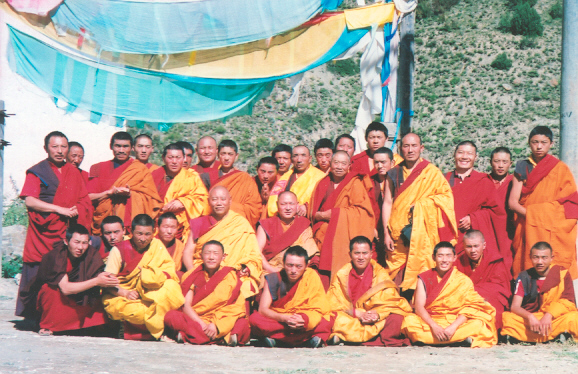 GeuGon Monastery in Nangchen, Qinghai
Rinpoche taught Serkhangma for three days and one day practising Lama Chöpa. All the participants have strong devotion to the Dharma and highly appreciated Rinpoches' teachings. They strongly requested Rinpoche to return in the near future.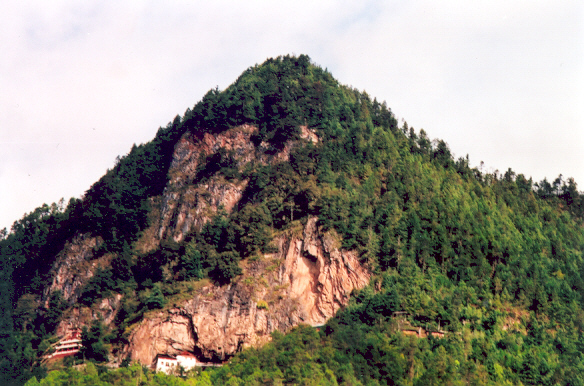 RabGye Monastery in Yunnan
Rinpoche stayed there for 20 days teaching Serkhangma, Ngöndro and giving other transmissions at the Buddhist College at the foot of the mountain. The teachings ended with one day of Lama Chöpa Tsog Offering. This was Rinpoche's first visit.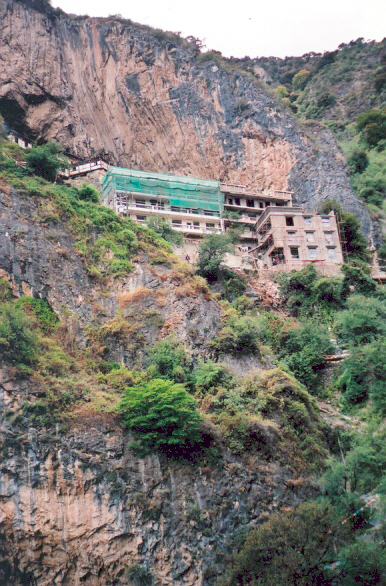 OmGya Monastery in Szechuen
Rinpoche spent two days at the monastery which is located near a cave at the edge of a steep cliff. Rinpoche gave transmission on the Five Fold Mahamudra and the practice of Lama Chöpa Tsog Offering. Twenty to thirty students attended the transmission. This was Rinpoche's first visit.
Dedicate and Rejoice
The donations made to these monasteries all came from the offerings made by Dharma Centers and individuals to Khenchen Rinpoche. So, you can see that these donations were used well. Everyone should dedicate this merit, and rejoice in those individuals' good deeds.
TOP
Drikung Abbot Konchog Gyaltshen Rinpoche Enthroned as Khenchen
by Victoria Huckenpahler (from Snow Lion summer 2001 newsletter)
(from left to right)

His Holiness Chetsang Rinpoche

His Holiness Dalai Lama

Ven. Drubwang Konchog Norbu Rinpoche

Ven. Khenchen Konchog Gyaltshen Rinpoche
Khenpo Konchog Gyaltshen, teacher and author, whose glowing smile and down-to-earth presence have endeared him to students worldwide, was elevated earlier this year to the status of Khenchen (Great Scholar) by H.H. Chetsang Rinpoche, head of the Drikung Kagyu. He is the only member of that lineage to bear the title.
On 14 May, the event was celebrated at the Tibetan Meditation Center in Frederick, Maryland, which Rinpoche had founded (originally in Washington, DC) in 1982. The festivities included a Lama Chöpa (Guru Puja and Tsok Offering), remarks by Khenchen Rinpoche, and a salutation by the Center's President.
While the traditional dresil (sweetened rice) and Tibetan tea were served, Rinpoche thanked the audience, some of whom had come from as far as Seattle, for joining him in celebrating the occasion which marks the culmination of his nearly two decades of service in this country and abroad. He then recounted the Dharma activities he has performed since the turn of the year, beginning in India where, besides being enthroned Khenchen, he taught the seminal Drikung work, Gong Chik. This historic teaching cycle formed part of the great Snake Year teachings, held only once every twelve years. This was followed by appearances in Taiwan, Los Angeles, Big Sur, and Tucson, among others. "The time was well spent," Rinpoche remarked. "I felt privileged, despite fatigue, the time changes, and the fact of having to change beds every week." And some, he noted with typical humor, "were harder than others!" He then cautioned that though we sometimes approach the Dharma as just another hobby, it is in fact the most important part of our lives. Nor is the cultural aspect key, but rather, the implementation of the practice. He concluded by reciting his daunting schedule for the remainder of the year which, besides the annual Spring retreat in Frederick, includes an around-the-world tour, starting with a pilgrimage to Mt. Kailash, followed by appearances in Malaysia, Europe and Hawaii.
TMC President Paul Palmer then graciously recounted Rinpoche's multitudinous achievements from the time he was ordained bhikshu (full monk) by Kalu Rinpoche, to his arrival in America nearly 20 years ago, until his present enthronement as Khenchen. Working in the early days in the US under conditions which Palmer termed "spartan," Rinpoche not only taught tirelessly, but translated numerous sadhanas, authored seven books of lineage prayers, and histories (including The Jewel Ornament of Liberation and the forthcoming The Garland of Mahamudra Practices), and twice hosted H.H. the Dalai Lama at the Center – all between teaching engagements in the North and South America, Europe and Asia. By popular demand he established additional Drikung centers around the world, thus making Dharma in general more available to the public, while establishing the Drikung lineage in particular as a solid, widespread presence. When the Tibetan Meditation Center moved from DC to its present, expanded quarters in Frederick, Rinpoche continued a back-breaking schedule of writing (the Center founded its own publishing company, Vajra Publications); hosting such eminent teachers as HH the Drikung Kyabgon, HE Garchen Rinpoche, and the yogi, Drubwang Konchog Norbu; ordaining Western monks and nuns; and establishing annual Spring Retreats. In addition, he has made smaller appearances at schools, colleges, and prisons, and has granted numerous interviews to the press. Because of his unflagging efforts, combined with the purchase of 36 acres of mountainside property in Frederick, the Center looks forward to a future in which it will doubtless draw retreatants from all over America. Palmer also remarked on Rinpoche's unblemished maintenance of ethical discipline, a cherished trait in this time of degeneration, and one which has inspired the respect of visiting teachers, as well as the confidence and veneration of his students. The Drikung Kyabgon himself has noted that Rinpoche "protects his pure monk's vows as fiercely as his own eyes," and Center members know that he has always avoided even the hint of administrative divisiveness. In this way he has taught as much by example as through formal instruction.
Rinpoche's long-time followers are gratified that his back-breaking efforts, which for many ears were seemingly valued below their full worth, are now being acknowledged both officially by his recent enthronement, and by students around the world who are manifesting a growing eagerness to avail themselves of his gems of wisdom. Rinpoche's Long Life Prayer reflects the sentiments and well-wishes of all his followers in the words; "You who are richly endowed with the glorious wealth of Dharma knowledge, who through reflecting and meditating, have actualized the self-aware absolute reality and shine with the hundred-thousand light rays of ethical discipline of the Buddha-Dharma, may you, Khenchen Ratna Dwaza, live long!"
An interview with most Venerable Khenchen Konchog Gyaltshen Rinpoche TOP
An interview with most Venerable Khenchen Rinpoche by Jeff Cox appears in the recent Snow Lion Newsletter (Volume 20, Number 3, Summer 2006) about the 3 poisons (ignorance, desire and anger).
Below are a few excerpts from the article:
"…there is an intellectual understanding of impermanence, and there is the actual experience. In our intellectual understanding, we know things are changing constantly, people are born and die. At the same time, in the mind, there is ignorance and the desire to hold on to the object as something permanent—there is grasping due to the habit of lifetimes to grasp onto objects. That habitual tendency to grasp is so powerful that we may understand impermanence intellectually but practically speaking that understanding is not accepted. That is how we are suffering."
"First you must understand the disadvantages of ignorance, desire, anger, pride, jealousy – the poisons. You need a strong understanding that these need to be purified. This is the fundamental way to reveal our inner mental qualities. To have this you must have strong devotion, determination, and dedication—which is not so easy. We do need outer comforts, but they will not bring actual happiness or joy. We have to realize that. When we are fully convinced of this, and we work with an authentic teacher, then we can overcome the delusions and confusions of samsara and be free from this cycle—and reveal the enlightened qualities."
Long Life Prayers for Khenchen Konchog Gyaltshen Rinpoche
TOP
These long-life prayers for Khenchen Rinpoche, which express the supreme qualities of this great teacher, were composed and offered to Rinpoche by other masters of the tradition.
Prayer 1 (shortest version)
You who are richly endowed with the glorious wealth of Dharma knowledge,
who, through reflecting and meditating, have actualized the self-aware absolute reality
and shrine with the hundred thousand light rays of ethical discipline of the Buddha-Dharma,
May you, Khenchen Ratna Dwaza, live long!
Prayer 2
A sun's Blazing Brilliance of Virtue
A long-life prayer for the Venerable Khenchen Konchog Gyaltshen, elucidator of the teachings of the Glorious Dakpo Kagyu
Swasti!
Guardian of the original dharmata, presiding master of all Buddha families,
Chief of an ocean of mandalas, great secret of the one hundred Buddha families,
Most magnificent of the various appearances, dispeller of the six realms' hardships –
This Kagyu lama, the embodiment of all Buddha families, bestows all goodness.
Most resplendent of wealth-holders of the Sage's full-libertion teaching,
Most magnificent of world-holders of the fully pure attainment lineage,
Most supreme of essence-holding elements that dispel the multitude of hardships –
I supplicate this great all-knowing guide to the path.
He differentiates into provisional and definitive the transcendent practice of complete study,
Realizes as the two truths the transcendent practice of unmixed contemplation, and
Actualizes the transcendent practice of unmistaken meditation –
May this maintainer of the Sage's tradition have a long life!
He is expert, of all scripture and understanding, in the sutric and tantric teachings of the Conqueror,
Diligent, with pure discipline, in the sutric and tantric teachings of the Conqueror,
Excellent, with developed Supreme Mindset, in the sutric and tantric teachings of the Conqueror –
May this clarifier of the Jewel, the Conqueror's teachings, have a long life!
He roars the thunder of the teachings of the Gong Chig,
Flashes the thousand-lightning-bolts of the ignorance-suppressing Gong Chig,
Showers the sweet rain of the un-declined Gong Chig –
May this expert bearer of the Gong Chig standard have a long life!
Holder of the comprehensive Dakpo attainment lineage,
Preserver of the supreme path, unmistaken in all aspects of the meaning lineage,
Propagator to those of Mahayana family the profound dharmas of the transmission lineage –
May this great being who upholds the Kagyu teachings have a long life!
True blessing-power of the Three Jewels, Three Roots, and the dharma guardians,
Changeless-sphere truth of all that is good and beneficial in the three times –
Through full purity of the Three faiths, may the indestructible three secrets of the
Jetsun Lama blaze always, with magnificence, goodness, and virtue!
These seven verses of vajra-dharmic long-life prayer for the unequalled great khenpo, a wish-fulfilling jewel, were composed with single-pointed aspiration by the wholly inferior follower of the Dakpo Kagyu by the name of Rase Könchog Gyatso during the Festival of Miracles of the Fire Dog year (2550).
This long-life prayer was translated from the Tibetan in the interval between the Festival of the Buddha's Descent from the God-Realms and Thanksgiving, 2006, by Könchog Dorje, Terence Barrett- one who has seen the truth of the words of this prayer on many occasions but has internalized too little and repaid the kindness described even less. May the truth, beauty, and devotion evident in the original Tibetan long-life prayer to the benevolent Khenchen Rinpoche of the Drigung Kagyu shine through in this attempt at translation with the blessing of the Kagyu masters!
Prayer 3
A Flower of Faith and Fortune
A Long-Life prayer for Khenchen Konchog Gyaltshen, Upholder of the Teaching and Meaning Tradition of the Drigung Kagyu
Namo Guru!
Primordially pure dharmakaya, self-expressive, Amitayus;l
Sambhogakaya, miraculous display, White Tara; and
Nirmanakya, appearing for the benefit of migrators, Ushnisha Vijaya -
Bestow the deathless, all-benefit-accomplishing goodness!

Jigten Sumgön, non-dual with Lord Nagarjuna in
Teaching the essence of the positions, textual tradition, and mindset
Of the stainless Conquerors, completely and without mistake -
Bestow the supreme and common attainments that engage the lineage blessings!
Channel-knots are untied by this treasury of confident intelligence that
Excellently clarifies the instructions, mindset, treatises, textual
tradition, and
Life-essence of the Triple Gem [Konchog] Teaching --
May the life of this great Lamp of the Teachings be stable and long!
You meaningfully promulgate the Teachings everywhere;
You raise aloft the Victory Banner [Gyaltshen] of the non-setting Teachings;
Your fearless roar annihilates wrong views -- May the life of this
Maintainer of the Unerring Victor's Teaching Treasury be stable and long!
The precious Teachings, basis of benefit and happiness;
The heart of the Teachings - both scriptural and realization - hearing, contemplating and meditating;
The result of the Teachings, meaningful Three Trainings:
May the life of this great maintainer of the Teachings-treasury be stable and long!
Now, as we are smothered by the gloom of these degerante times,
a Lamp of the Teaching such as yourself is like a daytime star.
May all of us remain your followers for all birth-migrations,
And mat the distance between us in this birth disappear, and we be at your feet,
Happy at our good fortune of being gathered together.
We pray the life of this embodiment of great understanding wisdom is stable and long!
In this way, the Lamp of the Drigung Kagyu Teachings, Khenchen Könchog Gyaltshen, through the good fortune of direcly ripened dharmata conjoined with actions and aspirations continually interconnected with the meaning lineage of the non-deceptive interconnected action-aspiration Gyalwa Drigungpa,arranged his lotus feet in our monastery and gave instruction on the Five-Fold Path of Mahamudra, bestowed torma-empowerment of the Protector, led us in Lama Offering Pratice, and more, while we were assembled together like fortunate honey-bees. The humble monk Karma She-driå Mpr-bu with trusting-faith that is non-returning and distinctive offered a kata and encouraged me to compose a long-life prayer; and so I, the Tan-sal Trul-ku, the 14th Dru-tshe-bhum Chen-nga Nam-tsho-wa, wrote this using the coarse praise of these degenerate times on this auspicious day, the tenth day of the seventh month of the Fire Pig year. We make virtuous aspiration for a long and stable life full of benefit of migrators and more teachings such as these recent!
Prayer 4
A Treasure of Glorious, Endless Life
A Long-Life prayer for Khenchen Konchog Gyaltshen
I supplicte the longevity deities:
Buddha Amitayus, holder of the long-life treasure,
Ushnisha Vijaya, maintainer of long-life primordial wisdom,
White Tara, wish-granting wheel of long-life bestowal -
Please pour your streams of longevity-elixir!
You have the view-realization of Nagarjuna and Maitripa;
The meditation experience of Tilopa, Naropa, Marpa, and Lord Mila;
The conduct of correct acceptance and rejection of
Gampopa, Phagmodrupa, and Kyopa Jigten Sumgön -
May you, holder of this treasury of view, meditation, and conduct, live long!
Your body is like Ngog-tön Do-de, endowed with listening-wisdom;
Your speech is like Chän-nga Drag-jung, endowed with contemplation-intelligence;
Your mind is like Dri-gung Ling-pa, endowed with meditation-samadhi -
May you, master of listening, contemplating and meditating, live long!
Your renowned learning destroys the confidence of falsehood-speakers;
Your fragrant discipline cuts down the arrogant;
Your cool shade of excellence skillfully encourages all living beings -
May you, master of learning, discipline and excellence, live long!
You maintain the validity of the Gong-chig teaching-tradition;
Your lion's roar defeats all debate challenges;
Your compositions expand the tenet-system of the Kagyu lineage -
May you, great master of teaching, debating, and composing, live long!
Khenchen, Lord of Speech, so that you may raise aloft
for the benefit of the world on the summit of Mount Meru
A Three Jewels' scripture-and-realization Victory Banner that will never fall,
May your vajra health and lotus feet be ever steadfast!
By the blessings of the Three Jewels and the ocean of Conquerors,
the power and might of the oath-bound Dharma protectors,
And the infallible basic character of inerdependence,
May all these aspirations be fulfilled swiftly and without hindrance!
As requested by Khenpo Thubten Yeshe, this long-life prayer of appropriate length for Khenchen Konchog Gyaltshen of the Drigung Kagyu lineage was written with pure intention by His Holiness the Drigung Kyabgon, Konchok Tenzin Kunzang Thinle Lhundrub, the one blessed with the title Gyalwa Drigungpa, on the 7th of October 2008 (Earth-mouse Year, in the 17th Rabjung). English translation revised by Terence Barrett under the guidance Khenpo Tsultrim Tenzin on June 5th, 2009.
---
Dedication

May all sentient beings be filled with the fragrance of morality,
and attain the standards of not being heedless, not being impure, not being defiled,
having nothing to regret, becoming free from bondage, being unfrenzied, nontransgression, nonextremism,
emancipation from the world, and the transcendent ways of enlightening beings.
May all sentient beings, by these precepts, all accomplish the body of morality of all Buddhas.
---
Last updated on 2017-02-13.